Randstad Smart Region networking lunch: A real life testing ground for sustainable economic growth
---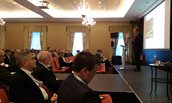 "Accelerating the transition toward the biobased economy is incredibly important and plays a major role in all European regions. I am pleased to see that the transition has been put into motion and companies increasingly use 'biobased' materials in their products, much more than 4 years ago. It is important to collectively press ahead now", says Regional Minister van der Sande.
Biobased economy made in Europe
The aim of the conference was to explore the needs and visions of the various interested parties in the European biobased economy and to take it to the next level. This broader objective is intended to raise the European regions' awareness of the need of a 'Bioeconomy Strategy', with special attention on the Central and Eastern European countries. 
 
During a 'walking exhibition', products manufactured with 'biobased' materials were presented. More than 20 different 'biobased' products were displayed, developed by various European companies. The 'biobased' products have been developed for various industries such as the automotive industry, clothing & sports, buildings & furnishings, and personal care. These examples prove that a biobased economy is more than just policy.