Zuid-Holland lead partner of European project CLINSH
---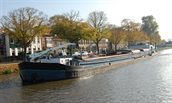 The province of Zuid-Holland is the lead partner for the inland waterway project CLean INland SHipping (CLINSH). The application for the subsidy that had been submitted to the European LIFE fund has been granted. The project will be launched on 1 September 2016 for a period of four years. The project aims to cooperate with partners to preserve the inland waterways.
Reduce harmful emissions
Compared to other modes of transport, the inland waterway transport sector is underdeveloped in reducing emissions and developing clean technology. This is partly because ships and engines are long-lasting. The financial strength for investments in new material or adjustments is often lacking. CLINSH looks at the technical and the socio-economic aspects of the inland waterway transport. To reduce emissions of nitrogen oxide (NOx), alternative fuels or supplementary technologies are used to clean exhaust gases (such as selective catalytic reduction via an SCR catalytic converter).
CLINSH consortium
At the invitation of the Director-General for the Environment of the European Commission, a consortium has been formed with parties from The Netherlands, Belgium, Germany and the UK. Partners include ports, universities and industry associations. The partners shall cooperate and contribute financially to measures to promote a cleaner inland waterway transport. European cooperation and commitment of European resources are required to finance this transition in the inland waterway sector. After all, the inland waterway transport sector is one that transcends the national domain.
By applying these methods in practice, the CLINSH consortium wants to demonstrate that harmful emissions can be reduced. The effect is then continuously monitored on 30 ships. The data can be input for policy of local, regional, national and international authorities and bodies. In addition, CLINSH maps the business case of the various measures for the shipping industry, so as to encourage the fleet to become even more sustainable.
Smarter, cleaner, stronger water transport
On 22 June 2016, the province organized the administrative session on 'Inland Shipping gains Momentum'. The possibilities and opportunities of smarter logistics, cleaner inland waterway transport and a stronger economy were discussed with some 30 partners and parties (carriers, shippers and entrepreneurs). During the meeting it became clear that people are looking for innovation and reinforcement of the inland waterway transport at different levels - European, national, regional and local. Initiatives have been implemented already. Along with the partners, Regional Minister Janssen aims to link the current projects in the framework of inland waterway transport together and boost the process, as well as to start new projects. CLINSH is one of its concrete steps.