Inspirational event on ERDF programmes in Zuid-Holland
---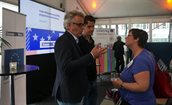 The Hague, 30 June 2016.
The Province of Zuid-Holland organised an inspirational event on participation in the ERDF programmes INTERREG Two Seas, INTERREG Vlaanderen-Nederland and Opportunities for West on 30 June. The aim was to inspire and encourage organisations within the region looking for participation in ERDF programmes to join forces. Over 40 representatives attended the event on behalf of various organisations, ranging from universities and innovation labs to local municipalities and SMEs.
Wiebe Brandsma, head of department of Economy and Society of the Province of Zuid-Holland, opened the event,. He  encouraged the attending representatives to work together in their search for ERDF project funding. "Let us seize the opportunities ERDF offers Zuid-Holland by exchanging experience, knowledge and enthusiasm for new ideas," mr. Brandsma stated.
Triple helix co-operation
The Province of Zuid-Holland invited organisations within the region with prior ERDF experience to the event, as well as organisations interested in participating in ERDF programmes for the first time. By doing so, the Province brought the enthusiasm of the newer organisations and the experience of their more experienced counterparts together. This resulted in representatives of a large variety of organisations attending the event, some of which with very clear ideas in mind for future ERDF projects. The presentations and workshops at the event proved to be a fertile environment for the exchange of ideas and know-how with regard to the preparation of an ERDF project.
Informative presentations
Facilitators for the three ERDF programmes (INTERREG Two Seas & Vlaanderen-Nederland and Opportunities for West) presented the attendants with all the relevant information about the programmes, such as application requirements and deadlines, programme-specific priority themes and examples of successful project applications. The plenary session was closed with a first round of Q&A.
Promising priorities
During the event three workshops on mutual policy themes: innovation, water and sustainable energy, which show promise for new ERDF project applications, took place. During these workshops attendants were given the opportunity to pitch their ideas for new ERDF projects. This resulted in very interesting discussions. Provincial policy managers also informed the participants about the different aspects of Zuid-Holland's regional policy and how this is connected with European funds. The workshops showed that there are plenty of new ideas for future projects.  Besides  keeping a close eye on these ideas, the Province of Zuid-Holland will will keep facilitating new initiatives on their way to a successful ERDF project.