Zuid-Holland and Hebei continue their cooperation
---
签约仪式在乌赫斯特海斯特的Kasteel Oud Poelgeest酒店举行。出席签约仪式的中方人员有:河北省政府张杰辉副省长和河北省代表团、中国驻荷兰公使衔参赞陈日彪等。荷方人员有雅普-斯密特省长及前任省长、南荷兰省国际事务处、荷兰创新中心、荷中商务促进有限公司以及与中国有相关合作的企业和科研院校等。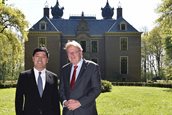 对于商业互动及科研合作的影响 :此次签约的合作备忘录是两省之间在原有协议上的延续。南荷兰省与河北省于2007正式建立友好省州关系。两省在农业,园艺,水资源管理,水利技术,环保,城市规划以及教育等多个领域已经拥有十年的成功合作经验。该合作旨在促进荷中两国企业,特别是南荷兰省与河北省的企业的商业合作。
2022冬奥会期间合作 : 在河北省长张杰辉的讲话中,高度赞扬了两省之间的多方面合作,并指出非常期待两省之间的友谊延续下去。在未来几年特别关注的合作项目中,他特别提到了2022年京张冬奥会。在在其准备过程中,他认为两省间有许多前景良好的项目。
对中国新一轮的访问 : 雅普-斯密特省长强调了南荷兰省与中国在多个产业和科研方面的合作的重要性。他简要回顾了2014年他对他第一次访问中国的经历,并期待将于2016年9月24日至10月1日进行对中国新一轮的访问。
The signing took place in Kasteel Oud Poelgeest in Oegstgeest and was attended by a delegation from Hebei, representatives of the Chinese Embassy in The Netherlands, administrators and former administrators of Zuid-Holland, the Ministry of Foreign Affairs, Innovation Quarter and companies and knowledge institutions with ties to China.
The cooperation agreement is a continuation of a previous agreement between the two provinces. Hebei and Zuid-Holland have already worked together successfully for 10 years, with their cooperation focussing on projects in agriculture and horticulture, water management and water technology, environmental protection,  development and education. The cooperation aims to have the industry and knowledge institutions benefit from joint ventures in China.
Cooperation during the Winter Olympics 2022: In his speech, Zhang Jiehui praised the cooperation with Zuid-Holland and the Zuid-Holland parties and indicated to be pleased with the continuation of the friendship between the two provinces. As a special focus of the cooperation in the coming years, he mentioned the Olympic Winter Games in 2022. In preparation thereof, he sees the development of promising projects and a sporting challenge.
New visit to China: Jaap Smit underlined the importance of the cooperation with China for the Zuid-Holland industry and knowledge institutions. He briefly recalled his experiences of his first visit to China in 2014. A new mission will take place from 24 September until 1 October 2016.