Province on Trade Mission to China
---
副省长安德瑞女士将率领南荷兰省设施园艺公司访问农业、园艺及食品加工等相相关产业。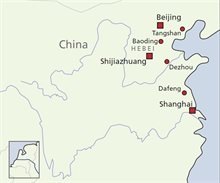 代表团将访问北京,上海以及河北省多个城市。自2007年以来,南荷兰省已与河北省,有着7300万人口的中国工业化程度最高的省份之一,建立了官方联系。该贸易代表团随后将前往上海浦东新区。
访问的前半周,恰逢基础设施环境部部长舒尔茨访华,涵盖包括面向未来的建筑和城市设计。属于基础设施环境部代表团的公司也将参与南荷兰省此次访问的部分活动。
访问期间,南荷兰省与中国的各级政府机构将进行多场正式会谈。通过这些会议,南荷兰省希望促进省内企业与中国合作伙伴的业务交流。此外,访问还将涉及多个在园艺领域、华为北京总部和曹妃甸生态城在内的实地项目考察。
The King's Commissioner, Jaap Smit, and the participants in this trade mission will address water management, sustainable development of cities, and soil improvement. Regional Minister Adri-Bom Lemstra is leading the mission with Zuid-Holland Greenport-companies on the theme of sustainable and healthy food supplies.
The delegation will visit Beijing, Shanghai and various cities in the Hebei province. Since 2007, Zuid-Holland has had an official cooperation agreement with Hebei, one of the most industrialized provinces of China with a population of 80 million. The trade mission will subsequently proceed to Shanghai-Pudong, with which the province has a formal cooperation as well. At the beginning of the journey, a meeting will take place with Minister Schultz of Infrastructure & Environment, who is to speak about the future-proof construction and design of cities at a congress. Companies that belong to the delegation of the Ministry of Infrastructure & Environment will also join in during parts of the Zuid-Holland trading mission.
The mission comprises a large number of formal meetings between the province and the Chinese authorities. Those moments are needed to grant the Zuid-Holland industry easier access to present themselves to and do business in China. In addition, a large number of working visits will be made to, among other, horticultural areas, a Huawei production site and the 'eco-city' Caofeidian.